Milos At Sea
A Unique Gastronomical Journey At Sea
At Milos, we take pride in our unwavering ability to deliver the simple, tasty, and healthy food of coastal Greece to our discerning guests.
With Milos at Sea, we are thrilled to be able to transport you to the very place where our gastronomy originates: the Greek Islands.
This summer, our beautiful yachts await you and your valued guests for an intimate culinary experience. Indulge in the divine foods of Greece while sailing the mythical Greek islands, paying homage to the place where it all began.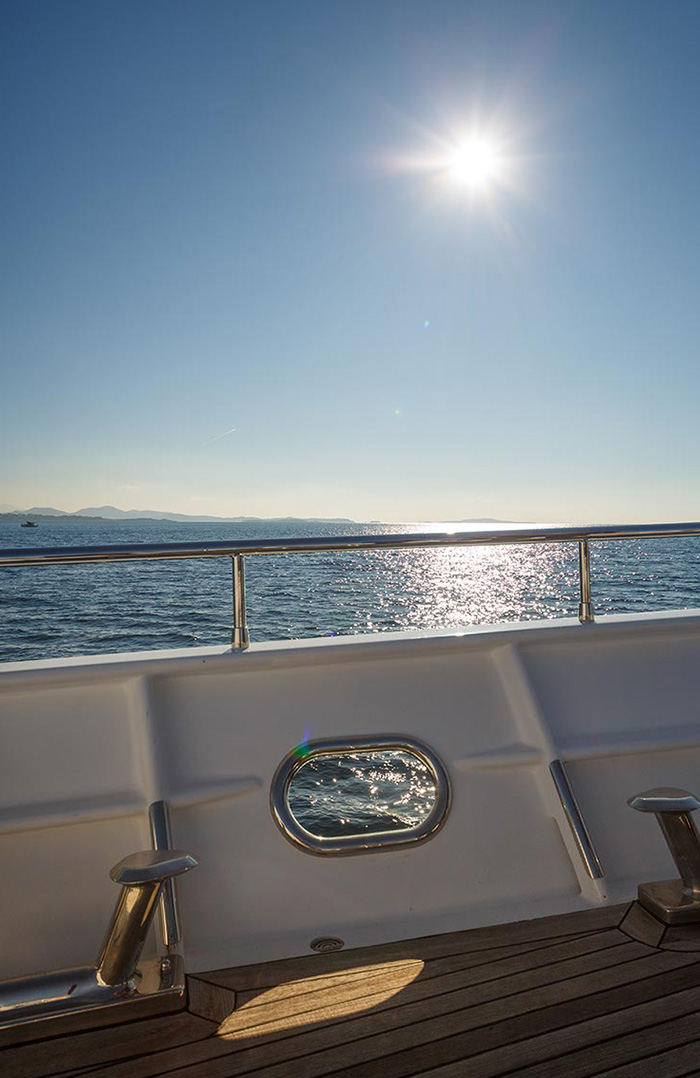 On Board
Faithful to the estiatorio Milos reputation for impeccable service and attention to detail, Milos At Sea offers a unique experience in the Greek islands, accompanied by the world-renowned estiatorio Milos cuisine.

Our Codecasa 113' is the ultimate symbol of meticulous craftmanship and ergonomic virtues, making it the ideal home away from home. While at sea, choose from a diverse list of activities including cooking lessons, wine and cheese tasting and fishing – to name a few. Meals are prepared following the principles and methods of estiatorio Milos, with a strong focus on the quality of raw materials in its surroundings.
See Gallery
Milos Yacht 56′ is an award-winning Aicon flybridge cruiser that is available for private daily or overnight charters. Crafted with exclusive specifications, the harmonious spaces highlight the ease of life on board. With a cruising speed of 28 knots, guests travel comfortably and efficiently between the many destinations along Aegean Sea.
See Gallery
Accomodation
Milos at Sea has the capacity to accommodate up to 10 guests overnight in four staterooms. All equipped with ensuite bathrooms, Milos at Sea boasts a Master Suite, one VIP stateroom and two Twin cabins each equipped with an extra Pullman berth.
Inside the yacht, the comfortable lounge adjoined to the spacious dining area is the perfect place to relax while enjoying a panoramic view of the sea. In dialectical relationship with the interior, the two-level deck is equipped with dining and lounge areas, suited for round table gatherings, relaxing, or simply enjoying the endless view of the horizon.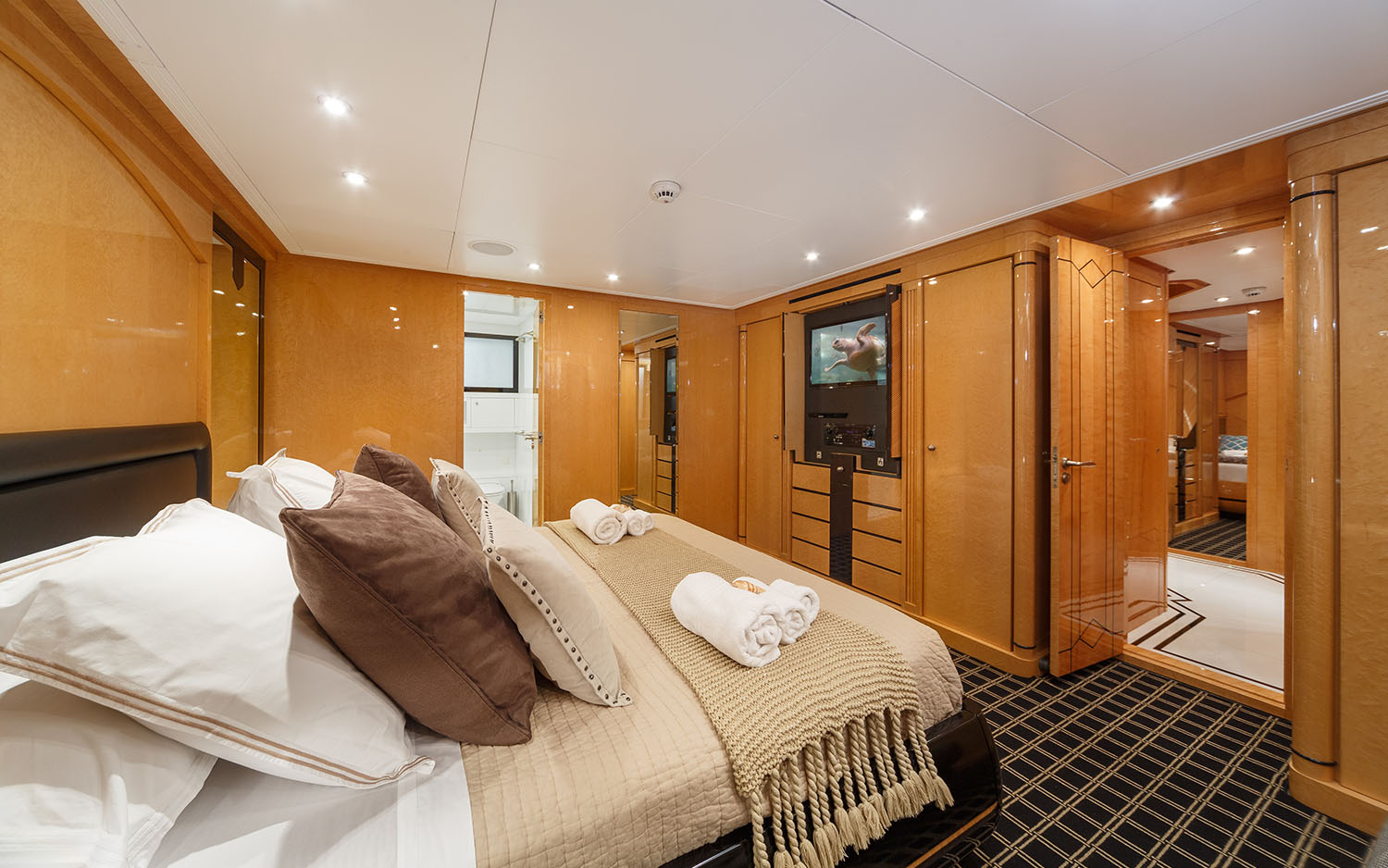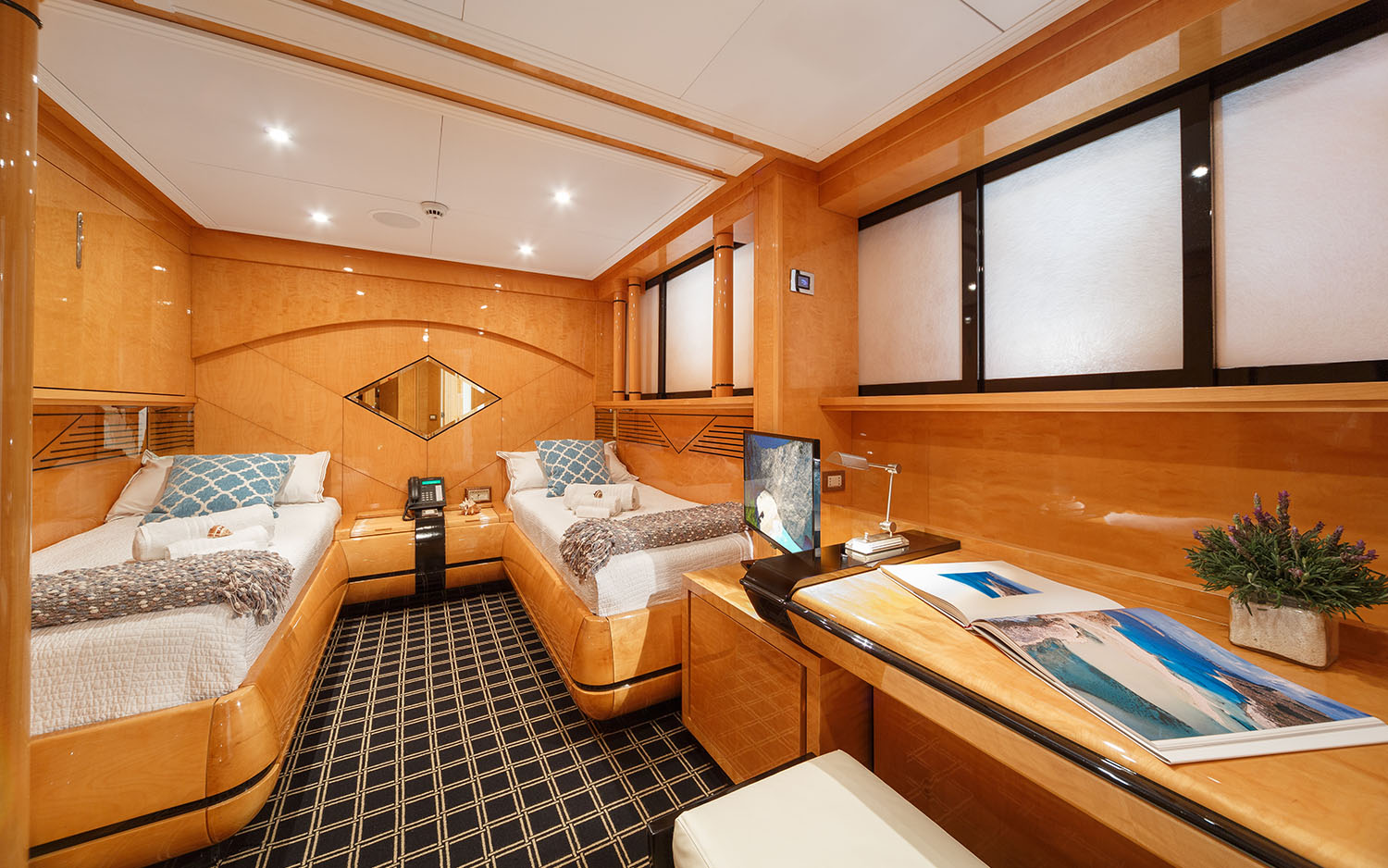 Tailored Services
For those in pursuit of serenity and relaxation, spend your days swimming in secluded coves or simply basking in the sun. If an epicurean journey through the foods and wines of Greece is what you're after, experience the bustling island ports and seaside taverns. For devotees of Greek culture, immerse yourself in our ancient heritage and cultural Greek treasures.
Our experienced crew will be happy to assist in curating a bespoke itinerary based on individual guest preferences for your ultimate experience at sea.
The Crew
The crew on board Milos at Sea is comprised of six crew members, who work tirelessly to ensure a safe and enjoyable journey at sea, under the command of captain Sifis Kontorinis. A skilled professional with extensive experience in navigating Greek waters, Sifis is a professional diver and lifeguard. Our crew guarantee a level of service that is synonymous with Milos standards.
Accommodation
Sumptuously equipped with a master suite, VIP suite and twin bed cabin, all cabins are adjoined with an ensuite for ultimate privacy. On and below deck, the common living and dining areas are the perfect intimate spaces to unwind. In the bow, enjoy a large sun pad as you admire the scenery while taking in the sun.
The contemporary interior echoes its coastal Greek surroundings, welcoming a harmonious sense of peace and tranquility. The yacht can accommodate up to 6 guests comfortably, with its intimate yet functional disposition.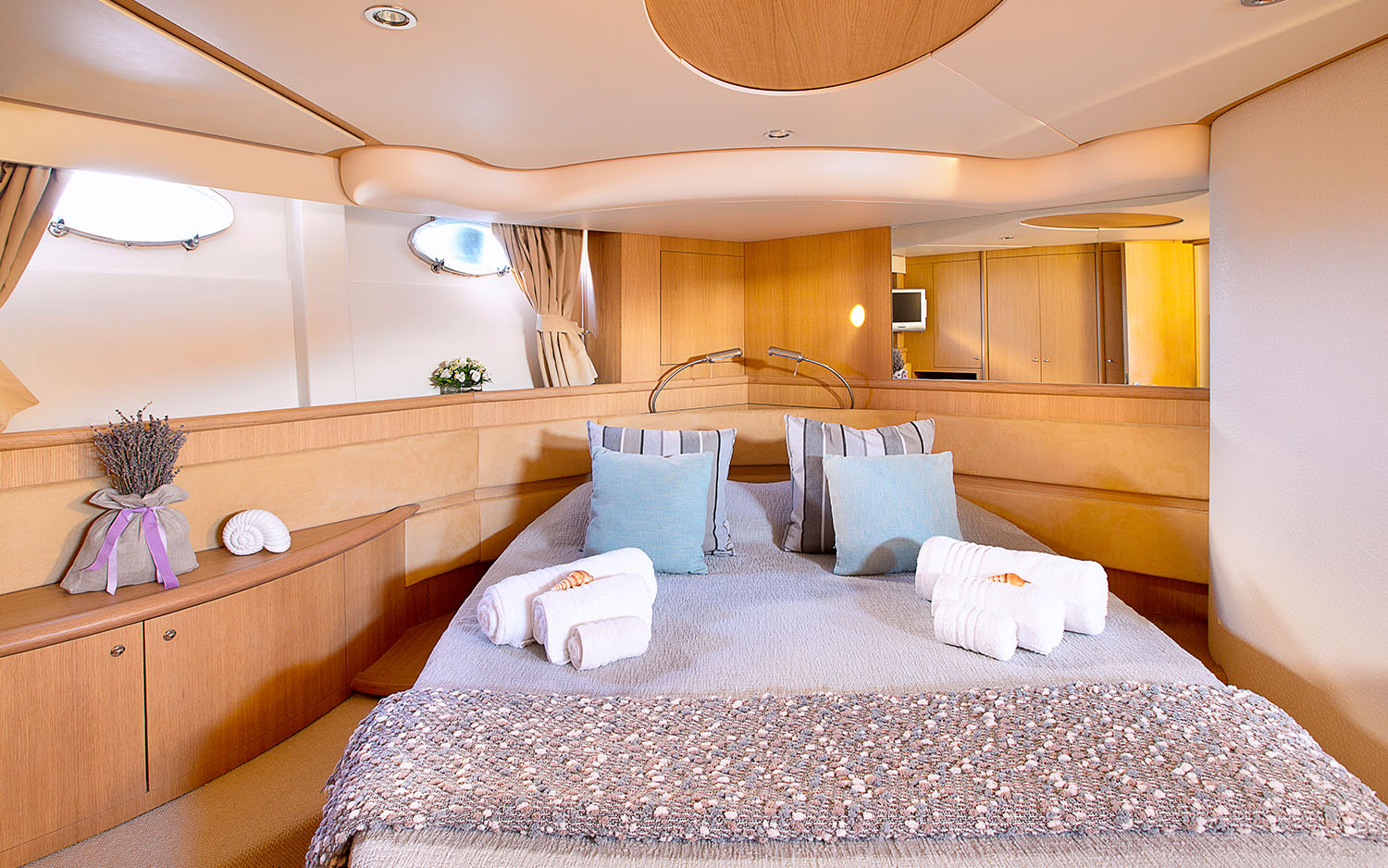 Tailored Services
Since its inception, estiatorio Milos has never strayed from its mission to bring Greek hospitality "philoxenia" to our guests, and Milos at Sea is no exception. Aboard our yachts, experience impeccable service and close attention to detail.
Whether deserted beaches, small coves, archaeological sites or cosmopolitan towns, the possibilities are endless. With the captain's expert knowledge of the surrounding areas, every guest is sure to find an experience suited to their preferences.
The Crew
Crewed by an experienced captain and first mate, the service is at once warm, professional, and discreet. The captain's intimate knowledge of the Greek coastline and islands makes cruising effortless and enjoyable, while ensuring the safety of all guests on board.
Sail with us
If you would like to learn more Milos at Sea, receive seasonal rates and other details, please contact us and we will be happy to promptly respond and assist you.
Email us at info@milosatsea.com and a Milos representative will get in touch with you shortly.